The Golden Rock School on Sint Eustatius is looking for a passionate teacher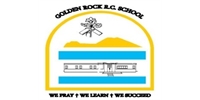 The Golden Rock Roman Catholic School on Sint Eustatius is looking for an enthusiastic and motivated Group 3 teacher with a passion for the development and growth of students within the oldest primary education institution on the island.

The school is situated on top of a cliff overlooking the Atlantic Ocean. It has a student population of approximately 95 students. Pupils have a multicultural background. The instruction language at Golden Rock is English. Dutch is being taught as a 'Strong Modern Foreign Language' from Group 1. The school's didactical and pedagogical philosophy is based on the IGDI-Model and Conscious Discipline. The school is under the oversight of the Dutch Ministry of Education, Culture and Science.


Our successful candidate possesses:
A qualified diploma;
Command of both English and Dutch language at C1/C2 level;
Excellent classroom management skills;
Didactical and pedagogical excellence;
Affinity with children who have learning difficulties;
Cross-cultural competence;
Competitive Salary;
60 days of vacation;
13th Month;
Participation in pension fund;
One (family) return plane ticket;
Relocation budget.
St. Eustatius, Caribisch Nederland
Tijdelijk met uitzicht op vast